Monday,
August 17, 2020
9:30am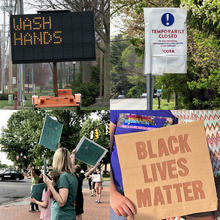 2020 brought unprecedented challenges and a sweeping activist movement. Worthington Memory is seeking donations of materials related to the Black Lives Matter protests, as well as the COVID-19 pandemic and statewide stay-at-home order as they've been experienced in and around Worthington. These materials will be added to Worthington Memory to help future researchers understand what life was like in Worthington during this time.
View examples of the items we are seeking in our growing Black Lives Matter Protests and COVID-19 collections. Other types of materials we are interested in are listed below. However, these lists are not complete; please contact us if you have an item not on this list that you're interested in contributing.
Black Lives Matter protests in Worthington
• Photographs of signs that you have made, or of favorite signs you've seen in the protests
• Black Lives Matter yard signs throughout the Worthington community
• Photographs of you or your family and friends participating in the protests
• Artwork you have made highlighting the movement
COVID-19 pandemic and stay-at-home orders
• Photographs reflecting the impact of the stay-at-home orders on daily life in Worthington, such as closed playgrounds, empty store shelves or empty streets
• Photographs or videos of socially distanced community events such as porch concerts
• Items reflecting the impact of the pandemic, such as a photograph of your favorite, handmade face mask, or a flyer on a store advising all visitors to wear face masks
• Diary entries you wrote during the stay-at-home order
Please get in touch with us by emailing us at worthingtonmemory@worthingtonlibraries.org to find out more on how to donate. All items must focus on the Worthington, Ohio community and surrounding areas. We cannot guarantee that we'll take all possible donations due to copyright, duplication and other issues, but we will consider every offer.