Saturday,
August 1, 2015
9:30am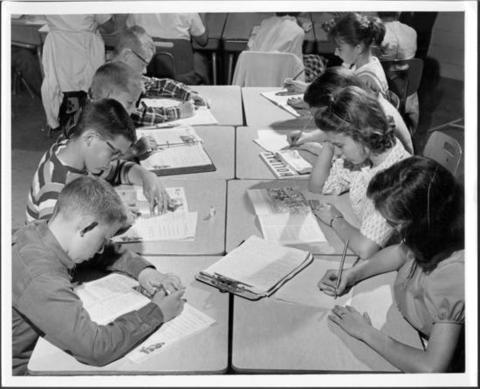 Although the dog days of summer are going strong, school bells will be ringing again soon! Since 1804, when its founders established the first school in a one-room log building on the Village Green, Worthington has been home to a distinguished educational history. Step inside our August exhibit to explore back-to-school days from decades gone by.
Since that first one-room log cabin, Worthington has offered wide-ranging educational options to its residents. Students paid a fee to attend early subscription schools like the Worthington Academy, and received training in subjects ranging from basic literacy and grammar to higher math. The city has also been home to several institutions of higher learning, such as the Ohio Central Normal School, which operated from 1871 to 1881 as a training school for teachers.
The educational system continued to grow throughout the 20th century. A post-World War II population boom led to the construction of Worthington High School (now known as Thomas Worthington High School). Prior to that, students attended high school in the building that now houses the McConnell Arts Center, 777 Evening Street. For years, the structure was referred to as the "Packard Annex," as it was designed by one of Columbus' premier architects, Frank L. Packard. Of course, Worthington now has two public high schools, with the opening of Worthington Kilbourne High School in 1991 (although it would be 17 years before the high schools' football teams would face off against one another!)
Although the students of 2015 have a decidedly different educational experience than those of centuries, or even just a decade, ago, some things haven't changed. From marching bands and study groups to crossing guards and school buses, these familiar sights can only mean one thing: school's back in session!
Newspapers
Worthington News

Thursday, September 6, 1928
Worthington News

Thursday, September 5, 1929
Worthington News

Thursday, September 10, 1936
Worthington News

Thursday, November 4, 1948
Worthington News

Thursday, October 21, 1954
Worthington News

Thursday, October 15, 1964
Worthington News

Thursday, September 26, 1974
Worthington News

Wednesday, August 19, 1987
Worthington Suburbia News (SNP)

Wednesday, August 30, 1995
Worthington News (SNP)

Wednesday, August 21, 2002
Worthington News (SNP)

Wednesday, August 20, 2008
Worthington News (SNP)

Wednesday, August 18, 2010