Thursday,
December 1, 2016
9:30am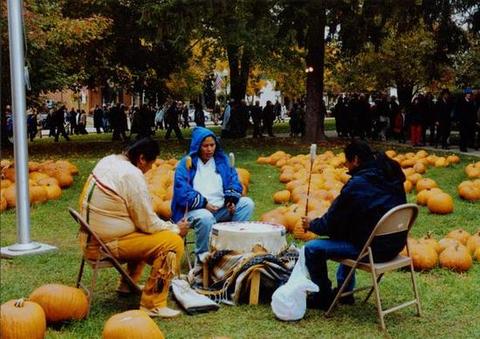 Although written history of the city of Worthington began in 1803, the history of people in central Ohio extends for thousands of years before that. Our December exhibit explores the history of Native Americans in the Worthington area, both before and after the city's founding by white settlers.
Located on Plesenton Drive overlooking the Olentangy River, the Jeffers Hopewell Mound is believed to have been built by people of the Hopewell culture sometime between 100 BC and 400 AD. The Hopewell culture was not a specific tribe, but rather refers to a way of life that evolved among people throughout the Midwest, with its epicenter in Ohio. The Jeffers Mound was once part of a much larger earthworks that was likely used as a ceremonial site. While farming destroyed much of the earthworks over the decades, the Jeffers Mound has been preserved and is on the National Register of Historic Places.
The Wyandot people lived in northern Ohio, and two of their members notably had ties to the Worthington area. The Wyandot chief Shateyaronyah (known by white settlers as "Leatherlips" because he kept his promises to the settlers, meaning his word was as tough as leather), signed a treaty with the settlers, angering his fellow Wyandots as well as the Shawnee chief Tecumseh. As a result, in 1810, Leatherlips was sentenced to death and executed in Powell, at the site of the present-day Scioto Park where a large stone sculpture now stands in his memory.
Leatherlips wasn't the only famous Wyandot in the Worthington area: Bill Moose was believed to be the last full-blooded member of the tribe to live in Ohio. He grew up in the Dublin area, traveling with the Sells Brothers Circus in the late 1800s and then settling in Columbus in a shack at the corner of Indianola Avenue and Morse Road. He was well-liked by people from all over central Ohio, sharing stories of Indian lore with children and touting his practice of sleeping outdoors as the secret to his longevity. He passed away in 1937, just two months shy of his 100th birthday, and thousands of people attended his funeral, which was handled by Rutherford Funeral Home of Worthington.
Forced to move west by the arrival of white settlers, there are no federally recognized tribes in Ohio today. Nonetheless, they left behind a great legacy. From art and language to food, medicine and even government, Native American tribes have an indelible impact on the culture and history of our state and country.
Newspapers
Worthington News

Thursday, May 13, 1926
Worthington News

Thursday, October 3, 1929
Worthington News

Thursday, September 13, 1934
Worthington News

Thursday, July 22, 1937
Worthington News

Thursday, May 28, 1970
This Week Worthington News

Thursday, October 20, 2016