Tuesday,
January 2, 2018
9:30am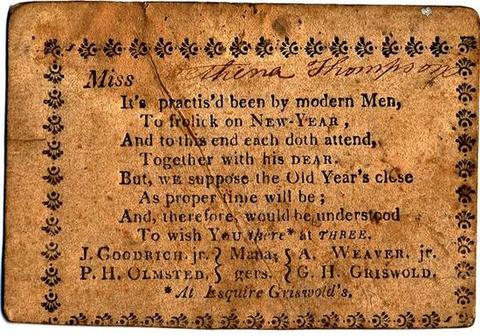 The big New Year's bash heralding 2018 may be over, but the party lives on in Worthington Memory! Our January exhibit looks back at New Years from centuries and decades past.
Some of Worthington's earliest settlers used the New Year as an occasion to celebrate. Julia Buttles received an invitation to a New Year's Day Ball in 1812, hosted by Worthington founder James Kilbourne. The approach of 1817 brought with it a poetic invitation for Bethena Thompson to attend a New Year's "Frolic" at Esquire Griswold's.
A century and a half later, the editors of the "Worthington News" published "Our New Year's Resolution." Its January 1, 1953 edition resolved that: "As a service to the community, and especially the newer residents, 'The News' will publish a series of articles during the coming year dealing with the history of Worthington and many of its lodges, churches and other institutions and organizations. This should provide our citizens with a good background for the coming Sesqui-Centennial celebration planned for October of 1953."
In more recent times, the dawn of the year 2000 turned into a wash for numerous Worthington residents and city staff. The city had designated a special emergency operations center to handle any issues related to the Y2K issue-- the threat that a programming bug would cause computers to go haywire at the stroke of midnight on January 1, 2000.
The first 20 minutes of the year 2000 were quiet in the operations center, until a call came in at 12:20 am about a water line break. The line was shooting water 60 to 70 feet in the air on Olentangy River Road. Another call about a water line break-- this time on East South Street-- rolled in 20 minutes later.
The leaks, from City of Columbus water lines, were repaired several hours later by Columbus crews. Dave Groth, who was Worthington city services manager at the time, said of the Olentangy River Road leak, "It was like a water cannon. I've never seen anything like it. It was a real mess."
Fortunately, the city and the rest of the computerized world weathered the Y2K threat. Having extra Worthington staff on hand that night, though, helped aid recovery from the purely coincidental water line breaks.
From New Year's Frolics and resolutions to geysers of water on Olentangy River Road, New Year's in Worthington is never a dull occasion.
Newspapers
Worthington News

Thursday, January 7, 1926
Worthington News

Thursday, January 10, 1929
Worthington News

Thursday, January 9, 1936
Worthington News

Thursday, December 19, 1940
Worthington News

Thursday, January 1, 1953
Worthington News

Thursday, January 5, 1967
This Week in Worthington

Wednesday, January 5, 2000
This Week in Worthington

Thursday, January 6, 2011