Thursday,
March 1, 2018
9:30am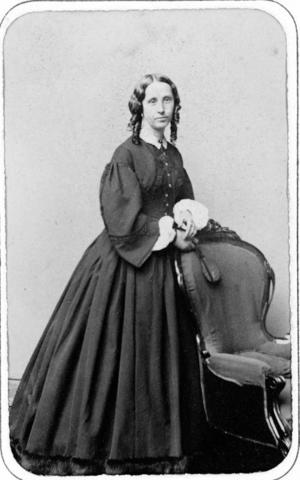 In a nod to Women's History Month, our March exhibit focuses on one woman from Worthington history: Mary Johnson Sessions, whose patronage helped establish the Columbus Museum of Art.
Mary was born in 1823, the only surviving child of Orange and Achsa (Maynard) Johnson. Orange was one of Worthington's first settlers and his comb-making business made him the modern-day equivalent of a multi-millionaire. His daughter attended the Worthington Female Seminary, a school for women training as teachers. Her report card dating from when she was about 19 years-old gave her a "93" in "Scholarship," a "97" in "General deportment" and only 2½ demerits.
Much of what we know about Mary comes from a multitude of surviving letters, written both to and by her. She received a number of letters from courters, and her replies were often paragons of tact. In an August 10, 1843 letter to a "Mr. Blank," she deflects his romantic overtures by responding, "I have reflected long and seriously and am fully convinced I entertain feelings of no other character than pure friendship and friendship only. You may perhaps think I wish or would trifle with your affections. 'God forbid' that ever I should be guilty of trifling with any ones affections."
She appeared to have a close relationship with her mother, Achsa, sharing her emotions and experiences in numerous letters. In an August 23, 1847 letter to her mother from Niagara Falls, where she was honeymooning, she described her "varied emotions" ranging from happiness at being with her beloved, Frank (Francis Sessions), to her sadness at journeying away from home. She reported she found Cleveland to be "a beautiful place" and that the beauty of Niagara Falls moved her to a "light & happy heart." In another letter from around December 1847, Mary complains to her mother of feeling "quite sick & blue," possibly due to being out late the previous night.
Her letters also offer great insight into the grueling nature of mid-19th century travel. A letter to her mother from February 25, 1841, describes a trip to Washington, D.C. She writes: "It would be in vain for me to attempt to describe to you my varied feelings during the twelve hours between Thursday & Friday sometimes almost trembling with fear but the next moment ready to burst with laughter & could not sleep till nearly morning there I was shut up in a little narrow contrapted [sic] concern with eight men just think."
One thing is obvious from this and her other letters: Mary loved her plants. Her December 1847 letter reads: "I wish I had my plants here, I have such a nice place for them. The two Geraniums Mr. S. got look very green & fresh." In the letter written on her honeymoon, she muses, "I often think of my plants, hope they will be transplanted to the crocks before the cold months."
Mary also appreciated the arts, and she and her husband amassed quite a collection of art in their travels. Her husband Francis, in addition to being a successful dry goods merchant and the founder and president of the Commercial National Bank, was an enthusiastic patron. He and Mary supported art and art instruction in central Ohio, and their pieces formed the basis of the Columbus Museum of Art's collection.
For insight into the first-hand experiences of this woman, notable in the history of Worthington and central Ohio, one need only to peruse her many letters found here.