Wednesday,
December 1, 2021
9:30am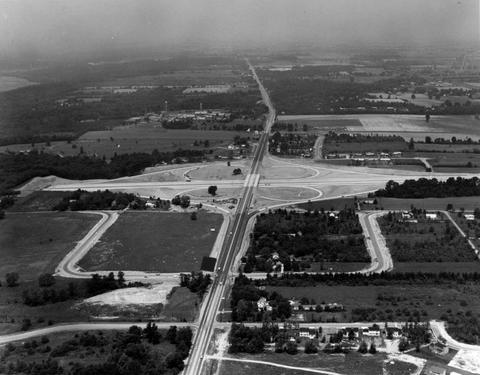 As the year winds down, a fresh crop of Best of 2021 lists are popping up all over. Worthington Memory is jumping on this bandwagon with a look back at some of our most popular scrapbook items of 2021.
The Worthington Memory scrapbook contains photos, documents and more on a wide range of subjects related to Worthington history. While all the items in the scrapbook are of historical interest, some draw more clicks than others. Thanks to the wonder of web analytics, we've rounded up some of the site's most-viewed items.
One of the most popular items was the Brief History of Bill Moose. This informational card by the Linworth Historical Society features a personal history by Bill Moose (1837-1937), who is quoted as saying, "I am a Wyandot Indian, and the sole surviving full-blooded member of that tribe." White settlers forced the Wyandot people from Ohio in 1843, but Moose's family refused to leave. Moose eventually would tour with the Sells Brothers Circus throughout the United States and Australia, returning to Ohio and living in a cabin at the corner of Morse and Indianola roads. When he passed away in 1937, just two months shy of his 100th birthday, an estimated 20,000 people paid their respects at his wake and funeral.
Also popular on the site are two locally produced films. "The Architecture of Rush Creek Village" offers insight into the development of Worthington's Rush Creek neighborhood, the largest community in the U.S. to embrace organic architecture based on the principles of Frank Lloyd Wright. Featuring interviews of two of the village's founders, Martha Wakefield and Theodore van Fossen, as well as footage of homes, the film imparts a unique viewpoint on this nationally recognized neighborhood.
The 1972 film "Worthington Story" provides viewers with a look at Worthington's past, from its founding in 1803 through several developments in its early history. The second half of the movie offers a tour of historic homes in Worthington, as well as their previous occupants. The film was a personal project of William Boyd Owens, a chiropractor in Worthington, and includes his family members as actors.
A 1997 photograph of an Underground Railroad shelter, located behind the historic Gardner Homestead on Flint Road, is also a popular item on the site. Ozem Gardner (1797-1880) was a farmer and bricklayer who is said to have assisted more than 200 enslaved people on their journey to seek freedom in Canada. According to oral tradition, the shelter, which still stands at this location, might have been used for storage or for burning brick and doubled as a place for people fleeing slavery to hide as they made their journey north.
It's always fascinating to see the changes in a city over time, and few photos show that better than the circa 1966
photo of construction of the state Route 23 and I-270 interchange. While anyone familiar with that area now can attest to its busyness, the 1966 photo looks practically bucolic, with farm fields and trees making up much of the landscape. Planning and construction of Interstate 270, the Columbus Outerbelt, began in 1965, and ribbon cutting of the Worthington interchange took place on August 15, 1967.
Finally, to send out the year 2021, the 21st most popular scrapbook item on Worthington Memory this year was the 1971 Worthington High School yearbook. Yearbooks in general are always a popular item on the site, and several others from the '70s, '80s and '90s hover in those top spots.
While the most-popular scrapbook items on Worthington Memory are certainly not all the site has to offer, they represent a fascinating cross section of Worthington history. Hopefully 2022 will bring even more interesting photos, documents and films to vie for those top spots. Worthington Memory is always open to community submissions of items like photos, letters and more; visit our call for submissions to find out how you can share your historic keepsakes.