Wednesday,
April 1, 2015
2:07pm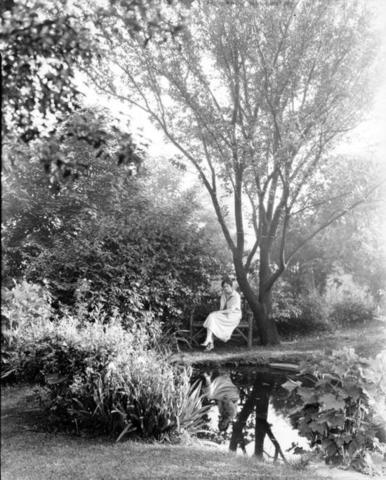 Spring is in the air! We invite you to celebrate both National Poetry Month and the long-awaited arrival of spring buds and blossoms by looking through some of our scrapbook and news items that feature gardens and poetry.
Since 1803, when its founders set aside land for a village green, open spaces and gardens have been an important part of life in Worthington. From the iconic hanging baskets that have adorned city streetlamps since 1992 to the community's love of trees and its long-running garden clubs, Worthington's citizens brandish a collective green thumb. Take a virtual stroll through gardens both functional and sublime, and meet some of the people who have played a key role in the development of Worthington's natural spaces.
But the spring celebration doesn't stop there! In recognition of April as National Poetry Month, we've included a selection of works by Worthington poets through the decades. Whether you're perusing a Valentine's Day poem from 1815, poetry contributed by Kilbourne Middle School students, or a selection of poems by acclaimed choreographer and dance instructor Barbara Burrows, Worthington's literary talents are on full display.
Newspapers
Worthington News

Thursday, August 29, 1929
Worthington News

Thursday, March 9, 1933
Worthington News

Thursday, March 21, 1935
Worthington News

Thursday, October 20, 1938
Worthington News

Thursday, March 25, 1943
Worthington News

Thursday, July 23, 1959
Worthington News

Thursday, May 7, 1970
Worthington News

Thursday, May 24, 1979
Worthington News

Wednesday, May 15, 1991
Worthington News (SNP)

Wednesday, August 3, 2005