Tuesday,
November 1, 2016
9:30am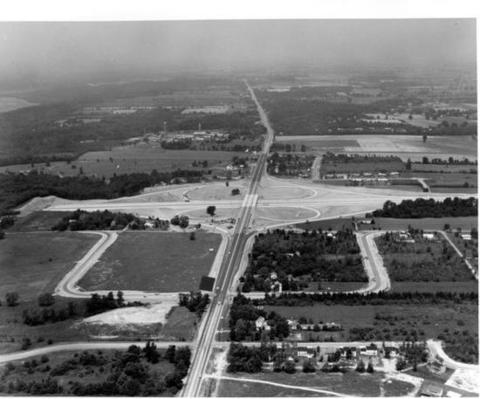 Road construction slowing you down? Take a spin through our November exhibit for a look at Worthington's major thoroughfares before they were paved.
It's hard to imagine while navigating High Street at rush hour, but 100 years ago this road was not paved. As the 1953 pamphlet "An Historical Sketch of Worthington" explains, High Street was a mud road connecting Worthington to Columbus until about 1840. That year, a corduroy road was built, consisting of branches and small tree trunks laid crosswise across the road. The corduroy road was replaced by a plank road in 1850 and a gravel road in 1875. It wasn't until 1921 that this main route to Columbus was paved!
Another busy street in Worthington, Dublin-Granville Road, was once so sleepy children sledded down it in the winter. Its transformation also began in the 1920s. As an article in the June 24, 1926 "Worthington News" reports, "This historic old Post Road—Granville Road, as it is known in Franklin County—was taken into the state highway system in 1925, with the thought that through traffic originating on the National Road could use it to advantage from Jacksontown on the east to Springfield on the west, and relieve congestion on the National Road between those points."
With the North Side Fix at I-270 and Route 23 nearing completion, consider that 50 years ago the outerbelt was the subject of enormous controversy. The original proposal had the outerbelt passing south of Worthington and north of Graceland, through the Ohio State School for the Blind. An alternate proposal recommended the route travel south of Wilson Bridge Road. Clearly, the immense public outcry had an impact; when the Worthington section of 270 was opened to traffic on August 15, 1967, it was located comfortably north of the city.
If road construction seems never-ending, that's because it is! From the mud routes of a quiet rural village to the site of the third busiest interchange in central Ohio (I-270/Route 23), Worthington's roads never stop evolving. As you dodge orange barrels, keep in mind that 100 years ago you may have been getting stuck in the mud instead.
Newspapers
Worthington News

Thursday, June 24, 1926
Worthington News

Thursday, April 4, 1929
Worthington News

Thursday, December 5, 1957
Worthington News

Thursday, January 12, 1961
Worthington News

Thursday, February 9, 1961
Worthington News

Thursday, May 31, 1962
Worthington News

Thursday, December 17, 1964
Worthington News

Thursday, June 10, 1965
Worthington News

Thursday, August 17, 1967
Worthington News

Thursday, March 16, 1978
This Week in Worthington

Monday, August 15, 1994
This Week in Worthington

Monday, March 13, 1995
This Week in Worthington

Wednesday, September 9, 1998
Worthington News (SNP)

Wednesday, August 25, 2004
Worthington News (SNP)

Wednesday, November 15, 2006
This Week Worthington News

Wednesday, September 12, 2012
This Week Worthington News

Thursday, January 3, 2013
This Week Worthington News

Thursday, July 21, 2016