Friday,
April 1, 2016
9:30am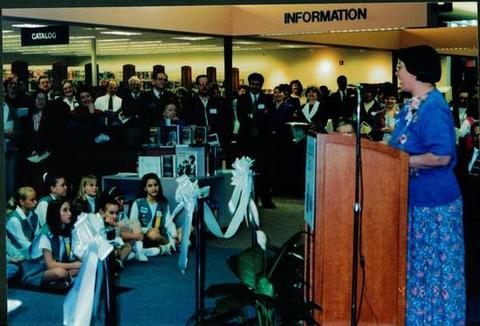 This month, Northwest Library is 20 years-old! Step inside our April exhibit to look back on two decades of library services.
On October 13, 1993, trustees from Columbus Metropolitan Library (CML) and Worthington Public Library (WPL) signed a joint development agreement for the construction and operation of a library in a rapidly growing area of their service districts. This agreement was part of a 2.2 mill, 22-year operating levy for WPL that passed the previous November, following a dedicated effort by library advocates and its new director, Meribah Mansfield, to build support in the community.
Groundbreaking for Northwest Library took place on September 13, 1994. The facility was groundbreaking in another way as well, in that it was the first library in Ohio and the second in the country to be built and operated by two library systems. Construction faced a hiccup when the contractor defaulted halfway through the project and a new company had to be found to finish the building. Despite this setback, the library held a successful opening day on April 16, 1996.
In the 20 years since then, Northwest Library has circulated millions of items, hosted countless storytimes, programs and community meetings and provided reference services and technology help to patrons of all ages and backgrounds. Shortly after the library opened, Worthington Libraries joined a partnership with CML and Southwest Public Libraries to share their collections among their patrons. This partnership has only expanded; in 2012, the Worthington, Columbus and Southwest systems joined the Central Library Consortium. Now, that group of 14 central Ohio library systems offer their patrons access to over 4.7 million items.
Here's to another 20 years of serving the northwest community!
Newspapers
Worthington News

Wednesday, April 29, 1992
Worthington Suburbia News (SNP)

Wednesday, January 27, 1993
Worthington Suburbia News (SNP)

Wednesday, February 17, 1993
This Week in Worthington

Monday, March 1, 1993
This Week in Worthington

Monday, April 18, 1994
This Week in Worthington

Monday, September 19, 1994
This Week in Worthington

Monday, June 19, 1995
This Week in Worthington

Monday, July 24, 1995
Worthington Suburbia News (SNP)

Wednesday, January 3, 1996
Worthington Suburbia News (SNP)

Wednesday, April 17, 1996
Worthington Suburbia News (SNP)

Wednesday, July 10, 1996
Worthington Suburbia News (SNP)

Wednesday, October 16, 1996
Worthington Suburbia News (SNP)

Wednesday, April 23, 1997
This Week in Worthington

Thursday, April 6, 2006
Worthington News (SNP)

Wednesday, April 19, 2006
Worthington News (SNP)

Wednesday, August 29, 2007
This Week in Worthington

Thursday, September 6, 2007
This Week Worthington News

Thursday, July 24, 2014