Tuesday,
January 3, 2017
9:30am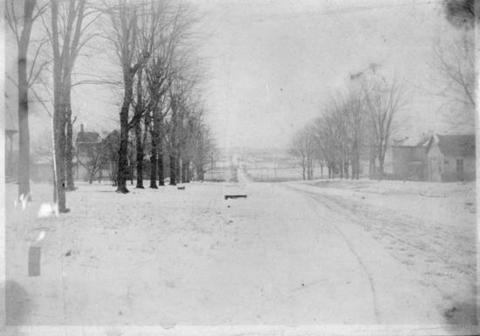 Brr! With winter upon us in earnest, this month's exhibit focuses on scenes of dramatic January weather from Worthington's past-- from snowstorms to floods.
"Families evacuated by boats, flooded basements, ladies locked out when children slammed the doors, streets entirely flooded-- and stray dogs-- these are the calls that kept the Worthington Police and Sharon Township Fire and Emergency Departments frantically occupied during Wednesday's flooding rains." So began a January 22, 1959, "Worthington News" article about the flooding that occurred throughout the city on January 21. With its proximity to the Olentangy River, the city is no stranger to frequent floods. Fortunately, they are not often as severe as 1959's flood, which led to boat evacuations for families living at the west end of West Kanawha and Rosslyn avenues.
Worthington has also "weathered" its fair share of blizzards, with the Great Blizzard of 1978 among the most memorable. This historic storm at the end of January brought rainfall that froze on top of several inches of snow, followed by more snow and winds of up to 75 miles an hour. Business, stores and schools closed, and most of Worthington's residents remained holed up at home. An exception were service crews, who worked in 12-hour shifts attempting to keep Worthington's roads cleared. Eventually, they gave up on the side streets and focused on keeping High Street and Dublin-Granville Road open. The Worthington Police were also hard at work, fielding 1,150 phone calls over a four-day period. Residents called about everything from being stuck in their driveway to being out of groceries. Police assisted 42 stranded vehicles, but remarkably, only four accidents were reported. Volunteers stepped up to help the police, aiding those stuck in the snow or trapped in their homes.
Excessive precipitation can undoubtedly make life challenging. Whether it's snow, rain, ice or the dreaded "wintry mix," the Worthington community has shown through the decades that it will come together to help all its residents in times of extreme weather.
Newspapers
Worthington News

Thursday, May 5, 1927
Worthington News

Thursday, April 2, 1936
Worthington News

Thursday, January 28, 1937
Worthington News

Thursday, December 7, 1950
Worthington News

Thursday, January 31, 1952
Worthington News

Thursday, January 22, 1959
Worthington News

Thursday, February 2, 1978
Worthington News

Thursday, June 29, 1978
Worthington News

Thursday, December 7, 1978
Worthington News

Thursday, February 1, 1979
Worthington News

Wednesday, May 20, 1987
Worthington News

Wednesday, July 22, 1992
This Week in Worthington

Monday, January 31, 1994
Worthington News (SNP)

Wednesday, December 29, 1999
Worthington News (SNP)

Wednesday, February 19, 2003
Worthington News (SNP)

Wednesday, March 26, 2008