Tuesday,
May 29, 2018
9:30am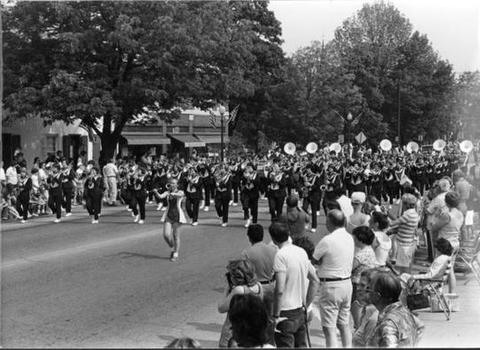 Tune in to our June exhibit, which highlights Worthington's musical past.
Photographs of Worthington's bicentennial celebration, held in 2003, offer evidence that in addition to livening up a party, music can also remind us of our shared cultural heritage. Native American drum circles, jazz bands and klezmer ensembles are among the styles that have enriched and echoed the diversity of our community. Citizens in Worthington's sister city of Sayama, Japan, shared a Taiko drumming performance during the Worthington delegation's last visit to Sayama in 2009.
The enduring nature of musical tradition helps shine a light on cultural change and the passage of time. The half-century separating two group portraits of the St. John's Episcopal Church choir can be felt in the contrasting clothing of both groups and the visual clarity of each image. For a satirical snapshot of the 1940s, including showbiz mania and political turmoil, be sure to check out the program for the "Rose of the Danube" operetta you'll find below.
Concert programs may also reflect the styles of the day-- don't miss the vibrant illustrations for Worthington High School's musical productions in the 1950s and '60s! By comparison, the program for a "Grand Concert" held in 1894 may not be as colorful, but it does mark the grand opening of a "New School Hall" at what was previously Worthington High School (the current site of Kilbourne Middle School). It also hints at the orchestral stylings of the day, along with the influence of Greek mythology on ensemble naming ("Euterpean Band," anyone?).
Worthington-based musicians, whether students or professionals, have a well-documented history of taking center stage. (In fact, you can find evidence in this exhibit of local guitar guru Chuck Dailey's development from pupil to musical mentor.) We hope you enjoy getting in tune with our community's melodious tendencies this summer and across the years!
Newspapers
Worthington News

Thursday, July 16, 1925
Worthington News

Thursday, June 18, 1925
Worthington News

Thursday, September 3, 1931
Worthington News

Thursday, February 16, 1939
Worthington News

Thursday, April 25, 1940
Worthington News

Thursday, April 23, 1953
Worthington News

Thursday, May 31, 1973
Worthington News

Thursday, February 28, 1974
Worthington News

Saturday, February 23, 1991
Worthington Suburbia News (SNP)

Wednesday, December 24, 1997
Worthington News (SNP)

Wednesday, November 21, 2001
Worthington News (SNP)

Wednesday, May 12, 2004
Worthington News (SNP)

Wednesday, September 7, 2005
Worthington News (SNP)

Wednesday, December 7, 2005