Tuesday,
September 1, 2015
9:30am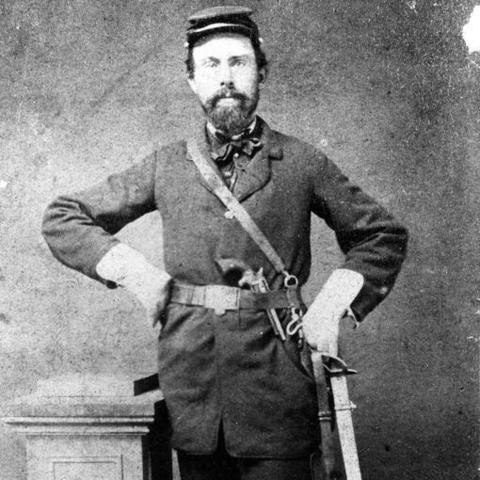 In recognition of the 150th anniversary of the Civil War, Worthington Libraries is hosting the exhibition "Lincoln: The Constitution and the Civil War," September 3 through October 16 at Old Worthington Library. To explore how the "War Between the States" impacted Worthington, our September exhibit highlights soldiers and civilians from this era.
Beginning in October 1861, a building on the Village Green served as the recruiting office for the 46th Ohio Volunteer Infantry. After training at Camp Chase, located in what is now Columbus' Hilltop neighborhood, the regiment fought in the Battle of Shiloh in April 1862, losing nearly 300 of its members. The regiment continued on to Memphis and the siege of Vicksburg, then fought at the forefront of the Atlanta campaign and joined Sherman's "March to the Sea" to seize Savannah, Georgia. This month's exhibit includes regiment members Thomas Jefferson Brelsford and William Henry Jewett.
Along with its Union soldiers, Worthington was the birthplace of Roswell Ripley, who served as a brigadier general with the Confederate Army. On April 12, 1861, Ripley's artillery at Fort Moultrie, South Carolina, bombarded Union troops stationed at Fort Sumter, beginning the Civil War.
Worthington was also a key stop on the Underground Railroad. A farmer and abolitionist, Ozem Gardner hid enslaved people on his farm in Flint as they made their dangerous journey to seek freedom in Canada. Some former enslaved people even settled in the Worthington area. Charles and Mary Angeline Davidson made their home in Linworth, where Charles raised corn, wheat and soybeans. Kendall Lee and his wife settled in Franklin Township in the 1840s after being freed from enslavement in Virginia. Featured in this month's exhibit is their grandchild, John Kendall Lee.
If this month's Worthington Memory exhibit has piqued your interest about the Civil War era, don't miss "Lincoln: The Constitution and the Civil War," as well as the free programs that have been planned in conjunction with it. Check out the library's calendar for more details!
Newspapers
Worthington News

Thursday, August 19, 1926
Worthington News

Thursday, March 18, 1926
Worthington News

Thursday, May 24, 1928
Worthington News

Thursday, October 11, 1928
Worthington News

Thursday, March 14, 1929
Worthington News

Thursday, November 30, 1933
Worthington News

Thursday, February 18, 1937
Worthington News

Thursday, June 16, 1938
Worthington News

Thursday, December 14, 1939
Worthington News

Thursday, December 16, 1976