Monday,
February 1, 2016
9:30am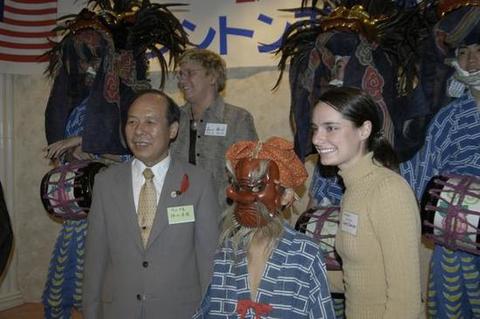 Since 1999, Worthington has been sister cities with Sayama, Japan. Our February exhibit celebrates this cross-cultural friendship.
Where in the world is Sayama? Located in the Saitama prefecture to the northwest of Tokyo, the city of Sayama formed in 1954, when several villages and one town merged into one. Sayama is famous for its green tea, which is celebrated during an annual November festival.
In the fall of 1993, a delegation from Sayama visited several Ohio cities in a quest to choose a new friendship city. They sipped tea with Worthington city officials in the garage bay of the old fire station, which served as temporary city administration offices while the new municipal building was under construction. That winter, Sayama requested that Worthington become a friendship city and Worthington accepted the request, forming the Worthington International Friendship Association (WIFA). In 1999, the two cities signed a sister-city agreement.
Since that time, Sayama and Worthington have exchanged dozens of delegations. Groups of citizens, city officials and students have visited their respective sister cities to experience a true insider's view of another culture. Delegations participate in sightseeing, homestays and celebrations as well as behind-the-scenes tours of city offices, schools and more. School groups such as choral delegations and basketball, baseball and soccer teams have visited their counterparts across the ocean to give concerts and play games, making new friends and even pen pals along the way.
In recent years, the friendship between the two cities has only continued to deepen. After a devastating earthquake and tsunami struck Japan in 2011, WIFA sponsored a benefit concert to raise money for the relief fund. 2012 brought an art exchange, with pieces by more than 100 artists from both cities exhibited at the McConnell Arts Center in Worthington and at the Citizens' Exchange Center/City Hall in Sayama. And in 2014, Worthington and Sayama celebrated 15 years as sister cities with DVD and mayoral exchanges between the two locations.
Here's to many more years of friendship, cross-cultural connections and fun!
Newspapers
This Week in Worthington

Monday, January 31, 1994
This Week in Worthington

Monday, October 17, 1994
Worthington Suburbia News (SNP)

Wednesday, September 3, 1997
Worthington News (SNP)

Wednesday, July 19, 2000
Worthington News (SNP)

Wednesday, November 12, 2003
This Week in Worthington

Thursday, February 12, 2004
This Week in Worthington

Thursday, December 2, 2004
Worthington News (SNP)

Wednesday, August 17, 2005
Worthington News (SNP)

Wednesday, August 15, 2007
Worthington News (SNP)

Wednesday, October 14, 2009
This Week in Worthington

Thursday, March 17, 2011
This Week in Worthington

Thursday, May 5, 2011
Worthington News (SNP)

Wednesday, April 4, 2012
This Week Worthington News

Thursday, September 27, 2012