Wednesday,
April 14, 2021
4:58pm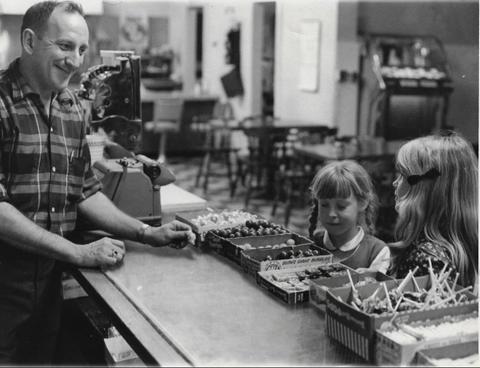 Food is the way into the hearts of many, with diners looking for experiences that range from the nostalgic to the adventurous. Worthington has been home to restaurants, inns and exciting places to find delicious treats for many years, so our May exhibit is all about the places where the people of Worthington have gone for a bite to eat!
In Worthington's early history, an inn was a great place to stop for a meal while traveling, and the Griswold Inn, built in 1811 by Worthington founding father Ezra Griswold, fit the bill. The inn was handed down through the Griswold family, operating as a tavern and inn before being converted into a residence that stood until 1964. Another fixture of Worthington's inn scene was the Worthington Inn. Although it has changed names and ownership several times, as the only 19th century inn still standing in Worthington, it remains an iconic part of the downtown historic district. The inn opened as the Hotel Central in 1836 under the ownership of Cornelia Vest Corbin, became known as Henri Boyd's Inn when ownership changed in 1946, then was sold and renamed the Worthington Inn in 1952. Over the years, the inn has been the site of hotel and apartment accommodations and notably the Worthington Inn restaurant. New plans to redevelop a portion of the site include maintaining a restaurant while repurposing some space for residential and retail use.
Restaurants along High Street have drawn Worthington residents for many years. In the early 19th century, Chase Tavern offered family-friendly dining just south of South Street. The Village Confectionery, which operated at 673 High Street from 1963 to 1968, served up diner-style food and chocolates. The present-day Whitney House operates at an address that has seen numerous changes over the years. An early tenant was Norma's Restaurant (famously depicted on a greeting card), which opened at 666 High Street in 1962 and became known for homemade pies and soup. The location later became Paul's Pantry and then the Village Cupboard Restaurant before the Whitney House opened its doors in late 2014. A more recent addition to the city's southern High Street restaurant scene is Natalie's, which offers coal-fired pizza and live music.
Dining experiences in Worthington are not limited to brick-and-mortar settings. For those who walk Worthington's streets famished, the Schmidt's Sausage food truck has been a pop-up place to stop in Old Worthington, offering the classic sausages and cream puffs of the iconic German Village beer and sausage haus. Since 2017, when city council approved Designated Outdoor Refreshment Area (DORA) legislation, outdoor diners have been able to enjoy alcoholic beverages while strolling downtown Worthington streets.
When Ohio's COVID-19 stay-at-home order was announced in March 2020, Worthington streets and restaurants emptied. The Worthington Memory scrapbook shows photos of empty streets in front of the normally busy Old Bag of Nails, Whitney House, Sassafras Bakery and Dairy Queen in downtown Worthington, and further north empty parking lots in front of Panera and Piada at The Shops at Worthington Place. With the decrease in traditional patronage, many restaurants adapted to provide take out, sell gift cards and prioritize outdoor seating. After stay-at-home orders eased, Worthington's Pizza Primo revamped its menu to offer grill items and gourmet pizzas to supply guests at outside at nearby bars. With experiences moving toward normal, many are looking forward to going back inside restaurants and enjoying the food and ambiance they provide.
Newspapers
Worthington News

Thursday, September 5, 1946
This Week Worthington News

Thursday, November 26, 2020
This Week Worthington News

Thursday, August 2, 2012
This Week Worthington News

Thursday, April 14, 2016
This Week Worthington News

Thursday, June 22, 2017
This Week Worthington News

Thursday, March 25, 2021
This Week Worthington News

Thursday, December 31, 2020
This Week Worthington News

Thursday, April 23, 2020
This Week Worthington News

Thursday, October 15, 2020
This Week Worthington News

Thursday, November 19, 2020
This Week Worthington News

Thursday, June 18, 2020
This Week in Worthington

Monday, August 28, 1995