Monday,
October 2, 2017
9:30am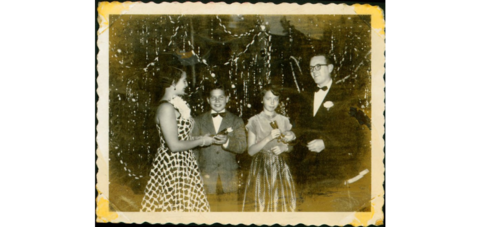 There's nothing like a school dance to make students' minds wander. Classroom concerns fall away in the face of decisions about what to wear and who to ask. With school in full swing, let's take a whirl through popular school dances from Worthington's past.
One of the city's fall highlights has always been the high school Homecoming dance. A tradition that's been observed in the U.S. since 1910, this dance welcomes graduates back to their old stomping grounds so they can celebrate school pride alongside current students. In earlier decades, the dance was held immediately following the football game, while today's homecoming dances are typically held on the Saturday following the game.
Along with Homecoming, Worthington Schools has hosted a variety of dances through the years. The Activity Club sponsored several different dance-related events throughout the 1940s and '50s, including a 10-week series of dance classes for students in grades four through 12. Trophies were awarded to participants based on improvement of their skills, cooperation and good manners. Beginning in 1958, a Candy Cane Ball rewarded students in grades nine through 12 at the end of the first 10 weeks of school.
The Activity Club also hosted the popular Spring Fling, held prior to prom, at which students modeled the latest in prom fashion. The Junior Dance Club planned an "Initiation Dance" in January 1967 to help sixth through eighth graders improve their dancing and social skills.
Whether it's a fall ball, a wintertime bash or a spring promenade, Worthington students have certainly had their choice of dances through the decades!
Newspapers
Worthington News

Thursday, December 19, 1940
Worthington News

Thursday, September 18, 1958
Worthington News

Thursday, December 18, 1958
Worthington News

Thursday, April 1, 1976
Worthington News

Thursday, December 15, 1977
Worthington News

Thursday, November 3, 1983