Wednesday,
March 1, 2017
9:30am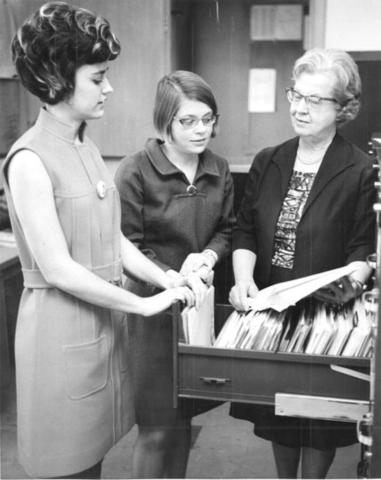 What better way to celebrate Women's History Month than by recognizing the remarkable achievements of the women of Worthington?
Through their public service and private contributions, women have made Worthington what it is today. Long before they could vote or hold office, women served the community through non-governing roles in their churches. When Worthington founded its Anti-Slavery Society in 1835, 24 of the 67 signers were women-- an unusual percentage in an era when women's public voice was widely restricted. For 15 years, Worthington was also home to the Worthington Female Seminary, a school for women. Built in 1842 at a time when educational opportunities for women were scarce, the school operated until 1857.
In later decades, the roles available to women expanded. When women won the right to vote in 1920, Maude Mabra was the first woman to cast her ballot in Worthington. Worthington's businesswomen have included Merite Snouffer, who was the proprietor of the Worthington Inn for several years in the mid-1900s. In 1988, the Dublin-Worthington Rotary Club accepted its first female member, Shay West. Throughout the 20th century, girls' sports teams at Worthington High School included cheerleading and basketball; following the passage of Title IX in 1972, the list grew to encompass sports such as swimming, track, softball, tennis and gymnastics. Women have also served in city offices such as council member, police lieutenant, director of parks and recreation and more.
Whether their contributions are high-profile or behind-the-scenes, there's no denying the impact that women have made on Worthington through the decades.
Newspapers
Worthington News

Thursday, March 21, 1929
Worthington News

Thursday, December 12, 1929
Worthington News

Thursday, August 28, 1947
Worthington News

Thursday, November 1, 1951
Worthington News

Thursday, June 24, 1965
Worthington News

Thursday, August 27, 1970
Worthington News

Thursday, August 16, 1979
Worthington News

Thursday, January 31, 1980
Worthington News

Thursday, September 20, 1984
This Week in Worthington

Monday, March 27, 1995
Worthington Suburbia News (SNP)

Wednesday, March 26, 1997
This Week in Worthington

Thursday, August 26, 2004
Worthington News (SNP)

Wednesday, October 22, 2008
This Week in Worthington

Thursday, November 12, 2009