Wednesday,
September 1, 2021
9:30am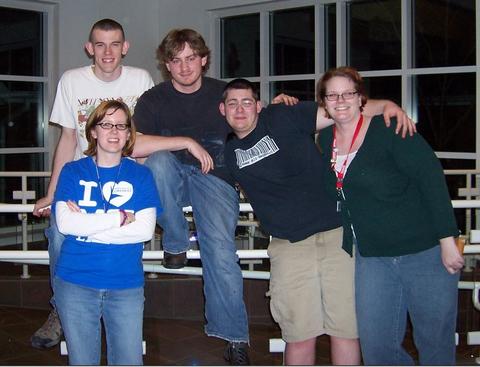 Teens have been seen making an impact in the Worthington community for decades. Many people look back on their own teen years with nostalgia, while others remember them as a time they are glad to have moved past. Whatever the feelings toward these years, our September exhibit focuses on times when young people got involved in the community, participating in school activities, library programs and performing good deeds. The exhibit also extends a tribute to work with teenagers done by a dedicated Worthington librarian, Ann Pechacek, who passed away in July 2021.
Teens of decades past made an impact throughout the community, and afar. In 1963, the "Worthington News" reported the city's Teen Council at the time donated a blue spruce to the city, which served to beautify the Village Green. Other efforts to help in the community have shown this age group raising money, helping the homeless and receiving awards for their community action. In 2007, teens even slept on the Village Green for a night to raise awareness about the community's lack of affordable housing. Their service has also had global reach, as Worthington teens have helped build a clinic in the Dominican Republic and sent letters to troops overseas.
Sports have been both an outlet and an opportunity for teens to shine. Photographs of high schoolers on sports teams date back to the early 20th century and feature boys' and girls' teams for basketball, baseball and football. High school athletes in recent years have shown their skills, delivering championship wins for Worthington on several occasions. Worthington Kilbourne's boys' soccer team, for example, won the state championship in 2000.
Teens are also known for having fun! Our archives are full of photos of teens having a great time being in plays, participating in school activities, dressing up for prom and just hanging out.
Many times, these tendencies to do good, excel and have fun have also brought teens into the Library, where programs offered opportunities to hang out, have fun and make a difference. Many Worthington teens may fondly remember participating in and helping administer Worthington Libraries' annual summer reading club (SRC), which offered fun young adult programs and volunteer work throughout the season. By the end of the SRC, teens who helped facilitate the summer reading challenges and programs could participate in a yearly "thank you" party, where activities and snacks worked to let teens know their efforts were appreciated.
Library programs gave teens a chance to make a difference in the community as well. Those on the library's teen advisory boards helped teen librarians, Ann Pechacek and Sarah Cofer, plan events to benefit residents of the United Methodist Children's Home (UMCH). In 2006, teens hosted a holiday bazaar at which they sold homemade and donated goods to raise money to buy Target gift cards for each resident and board games for common use. The following year, teens gathered pledges toward the number of pages they could read during a library read-a-thon. The event included visits from popular young adult novelists and a reading Olympics that challenged participants to play limbo, hula hoop games and Twister all while continuing to read their books! The money from the program allowed teens to buy items from UMCH residents' holiday wish lists.
Fun and teen programming have long gone hand in hand. During the school year, teens in the mid-2000s could unwind after a long week of school at the library's TGIF programs, which brought students together for snacks and activities after the Library closed to the public. Each program had a theme. Stand-outs included Project Goodwill, during which participants created stylish outfits from donated clothing. Another TGIF session, based on the Cartoon Network series, "Adventure Time," culminated in a cream pie-throwing celebration. Teens were promised if the WorthingTeens Facebook page received 500 likes, each could lob pies at the librarian of their choosing. In a video taken during the event, librarian Ann Pechacek, covered from neck to knees in a garbage bag, dances and bobs around playfully taunting participants aiming to cover her in pie, before she ultimately takes an impressive, well-aimed pan of cream pie goodness to the face!
Many a Worthington teen's library memories have Pechacek at the center. Ann was known for compassion toward young adults, as she created a welcoming environment for them in the Library, whether they were there to find their new favorite book or just hang out for a while. Her sense of humor and no-nonsense attitude put her on a wavelength they respected and appreciated. Ann did so much for this age group, from running library programs and book clubs to serving on multiple book award committees at the national level. She even let a group of teens at her library location decide what color she would dye her hair (the verdict: bright purple)! Many Worthington memories, especially those of teens who spent their time at Worthington Libraries, were made better through Ann's presence.
Explore
Newspapers
Worthington News

Thursday, May 9, 1963
Worthington News

Thursday, April 26, 1973
Worthington News

Thursday, May 17, 1973
Worthington News

Wednesday, February 7, 1990
Worthington Suburbia News (SNP)

Wednesday, November 5, 1997
Worthington Suburbia News (SNP)

Wednesday, August 19, 1998
This Week in Worthington

Thursday, August 19, 2004
This Week in Worthington

Thursday, December 7, 2006
This Week in Worthington

Thursday, April 19, 2007
This Week in Worthington

Thursday, December 20, 2007
This Week in Worthington

Thursday, March 25, 2010
Worthington News This Week

Monday, October 19, 1992
Worthington News

Thursday, July 19, 1979
This Week Worthington News

Thursday, November 9, 2017
This Week Worthington News

Thursday, September 28, 2017
This Week in Worthington

Thursday, January 23, 2003
This Week in Worthington

Thursday, July 3, 2003
Worthington News (SNP)

Wednesday, August 14, 2002
Worthington News (SNP)

Wednesday, August 18, 1999
Worthington News (SNP)

Wednesday, January 5, 2005
Worthington News (SNP)

Wednesday, January 5, 2011