Sunday,
November 1, 2015
9:30am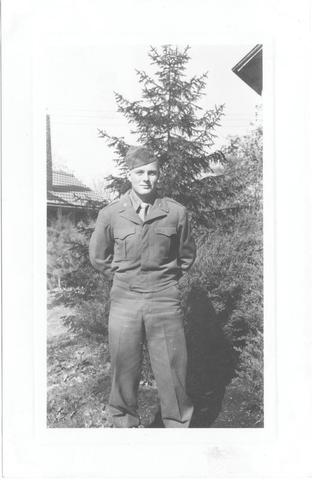 Since 1919, November 11 has been a day to honor those who have courageously defended our country. Our November exhibit spotlights Worthington's veterans, who have served in the armed forces from the Revolutionary War to the present day.
Through the centuries, Worthington residents have enlisted and bravely fought for the causes of their time. Among the members of the Scioto Company, the group that founded Worthington, were several veterans of the Revolutionary War as well as the War of 1812. And Worthington made significant contributions to the Civil War, as explored in September's exhibit.
Numerous soldiers from Worthington served in World War I, with many of them making the ultimate sacrifice, including Arthur C. Wolford, William H. Yauger and Lawrence G. Leasure. The recipient of a gold star for his actions fighting overseas, Leasure was only 24 when he died in 1918. Worthington's American Legion Leasure Blackston Post 239 is named in his honor, along with World War II veteran Tad Blackston.
Worthington's many World War II veterans included George C. Blake, Robert Samuel Harsh and Captain William C. Smith Jr. Blake, who was featured in our Hometown Heroes exhibit earlier this year, was awarded the Silver Star for rescuing his injured comrades under intense artillery fire. A 1946 graduate of Worthington High School, Harsh served as a corporal in the Army of Occupation in Korea from 1946-1948. And Smith was involved in the invasions of North Africa, Sicily and Normandy's Omaha Beach on D-Day.
In more recent decades, soldiers from Worthington have served in the Vietnam, Gulf, Iraq and Afghanistan wars. Those who lost their lives fighting in Vietnam included George Bonnell III, William H. Condit Jr., Charles J. Freeland and William J. Hrinko. David Spellacy was a Marine Corps captain killed in action during Operation Desert Storm in 1991. And Branden Oberleitner, a Thomas Worthington High School graduate who was passionate about military service, was killed in Iraq during Operation Iraqi Freedom.
In November 1919, Armistice Day, which later became Veterans Day, was recognized by President Woodrow Wilson with these words:
"To us in America, the reflections of Armistice Day will be filled with solemn pride in the heroism of those who died in the country's service and with gratitude for the victory, both because of the thing from which it has freed us and because of the opportunity it has given America to show her sympathy with peace and justice in the councils of the nations…"
For their courage and their sacrifice, we honor those from Worthington who have taken up arms to defend our country.
Newspapers
Worthington News

Thursday, November 11, 1937
Worthington News

Thursday, March 29, 1945
Worthington News

Thursday, September 9, 1948
Worthington News

Thursday, November 9, 1950
Worthington News

Thursday, January 11, 1962
Worthington News

Wednesday, April 9, 1975
Worthington News

Wednesday, May 31, 1989
Worthington News

Wednesday, February 26, 1992
Worthington Suburbia News (SNP)

Wednesday, November 10, 1993
Worthington News (SNP)

Wednesday, June 18, 2003
This Week in Worthington

Thursday, June 19, 2003
Worthington News (SNP)

Wednesday, November 5, 2003
This Week in Worthington

Thursday, May 27, 2004
Worthington News (SNP)

Wednesday, November 18, 2009