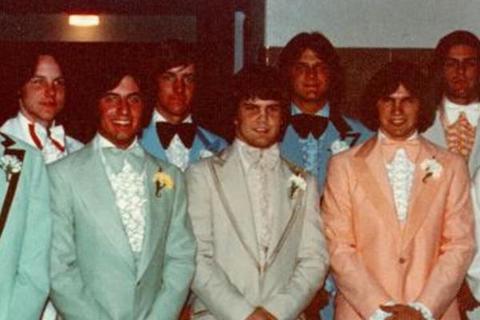 Prom season is upon us! Take a stroll through this month's exhibit to view the finest fashions from decades past.
The prom (short for "promenade") had its beginnings in the late 1800s as dances held at New England colleges to teach students proper etiquette. The tradition caught on with the high school set after parents and teachers thought that such dances might confer similar good manners on the younger crowd. By the middle of the 20th century, the prom had officially become part of the high school experience.
In Worthington, an annual tradition for many years was to hold a prom fashion event prior to the actual prom. Known as the Spring Fling, the event featured students decked out in the latest formalwear donated by local businesses such as the Village Sampler and Columbus Formal. The event was sponsored by the Worthington Activity Club, a group that since 1937 had done everything from offering students guidance on dress and etiquette to organizing dances. In the 1980s, the Activity Club broadened its purpose to include workshops on leadership and academic skills.
From flowing gowns to dapper tuxes, sit back and let yourself get swept away by the Spring Fling!
Newspapers
Worthington News

Thursday, March 28, 1974
Worthington News

Thursday, May 15, 1975
Worthington News

Thursday, December 10, 1981
Worthington News

Wednesday, May 13, 1992
Worthington Suburbia News (SNP)

Wednesday, May 26, 1993
Worthington Suburbia News (SNP)

Wednesday, January 25, 1995
Worthington Suburbia News (SNP)

Wednesday, May 10, 1995
Worthington Suburbia News (SNP)

Wednesday, April 22, 1998
Worthington News (SNP)

Wednesday, April 11, 2001
Worthington News (SNP)

Wednesday, April 3, 2002
Worthington News (SNP)

Wednesday, May 26, 2004
Worthington News (SNP)

Wednesday, May 3, 2006
Worthington News (SNP)

Wednesday, May 5, 2010
This Week Worthington News

Thursday, April 10, 2014