Wednesday,
May 1, 2019
12:29pm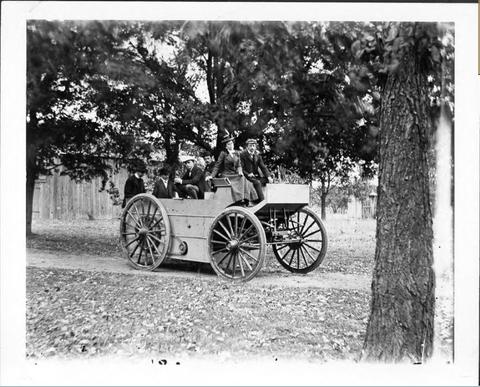 As the weather warms and the open road beckons, take a trip down memory lane via this exhibit of Worthington's vehicular history. Just be sure to observe the rules of the road as you go!
Traffic violations and speed traps may seem commonplace nowadays, but in decades past were considered front page news. Numerous headlines from the 1930s-'50s tell of the efforts of Worthington's police and fire departments to address unsafe driving practices as they first appeared. One key takeaway? Resist the urge to toss firecrackers out the window during your next joyride. Despite some bumps along the road to modern safety standards, though, drivers have taken an interest in car maintenance from the start-- thanks in no small part to shop class! City departments also upgraded their fleets of cruisers, fire trucks and other service vehicles (and occasionally put the retired "classics" on display during commemorative events) as they kept an eye on the safety of citizens.
Worthingtonians made noteworthy excursions predating automobiles, too. Due in part to the expense and difficulty of maintaining horses, the bicycle became a popular mode of personal transportation during the 1890s, and women especially enjoyed the freedom this new recreational activity provided. The invention and mass production of the safety bicycle, with two wheels of equal size, made cheap and personal transportation available to rural and urban dwellers. The interurban streetcar, also depicted in this collection, was a popular and affordable way to traverse the greater Columbus area without having to own a vehicle. Parks and recreational areas, such as Glen Mary Amusement Park, were commonly found along major rail lines and featured attractions like dance pavilions and picnic areas.
Wherever your adventures take you this summer-- by whatever means-- remember to stop and enjoy the festivities along the way!
Newspapers
Worthington News

Thursday, November 25, 1926
Worthington News

Thursday, April 5, 1928
Worthington News

Thursday, March 12, 1931
Worthington News

Thursday, July 7, 1932
Worthington News

Thursday, February 2, 1933
Worthington News

Thursday, January 4, 1934
Worthington News

Thursday, August 23, 1934
Worthington News

Thursday, July 2, 1936
Worthington News

Thursday, September 3, 1936
Worthington News

Thursday, November 12, 1936
Worthington News

Thursday, January 7, 1937
Worthington News

Thursday, February 17, 1938
Worthington News

Thursday, February 24, 1938
Worthington News

Thursday, July 31, 1947
Worthington News

Thursday, July 30, 1953
Worthington News

Thursday, May 8, 1958
Worthington News

Thursday, July 22, 1965
Worthington News

Thursday, March 23, 1972
Worthington News

Thursday, August 28, 1980
Worthington Suburbia News (SNP)

Wednesday, February 28, 1996