Monday,
January 4, 2021
9:30am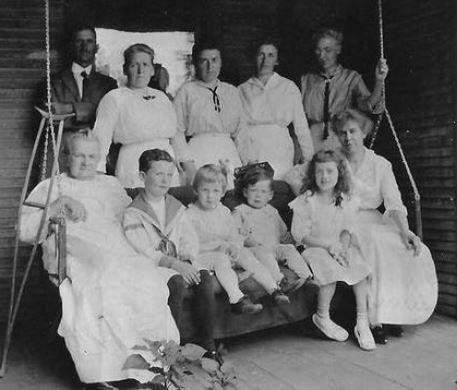 Our January exhibit looks at a family with a long and distinguished history in Worthington: the Griswolds.
In October 1803, when the Scioto Company arrived in Worthington, among its 100 members were Ezra and Ruth Griswold and their children. As one of the first settlers of the new village, Ezra wore many hats. According to Scioto Company Descendants, a book by Virginia McCormick, Ezra was granted a Franklin County tavern license on January 7, 1804, to open the first tavern in the village of Worthington. He was clerk of St. John's Episcopal Church when it was incorporated on January 27, 1807, and often delivered the sermon before the church acquired its first priest. He was captain of the militia in 1808 and, beginning that year, was elected justice of the peace, the primary law enforcement official in Worthington. With the exception of 1814, he served as justice of the peace until 1821.
Perhaps Ezra's most lasting legacy was the large brick home and tavern he built in 1811 north of Worthington's Village Green on the east side of High Street, where the Huntington Bank branch is located today at 800 High Street. This structure, the Griswold Inn, boasted a fireplace in every room, sheltered travelers and boarders and served as a dance hall, meeting area and community space. It was converted into a residence by Worthington Franklin Griswold, Ezra and Ruth's grandson. Worthington and his wife, Fondelia, raised a family of 14 children in the former inn. Despite an illustrious 153-year history, and a concerted community campaign to save it, the building was razed in 1964. Its last resident was Ruth Griswold, daughter of Worthington and Fondelia, who left in January 1964 to live with her sister, Edith Griswold Ligda, in California.
Both Worthington Franklin and Fondelia Griswold led interesting, community-focused lives. The son of Gen. George Harlow Griswold, who fought in the War of 1812, Worthington Franklin was a civil engineer who served on the board of education, was justice of the peace and held the position of mayor from 1896 to 1902. Fondelia, according to her July 8, 1930 obituary in "The Columbus Dispatch," was "a woman of rare mental ability." She began her study of Latin at age six and of Greek at age 10, and was literate in French and had some knowledge of Hebrew.
One of Worthington Franklin's and Fondelia's 14 children, Harriet Griswold McCullough, kept a scrapbook that included a number of photos of her family in Worthington in the early years of the 20th century. These include snapshots of the 1914 family Christmas tree, a view of the Olentangy River on Thanksgiving Day 1915 and numerous photos of family members young and old sporting the fashions of the day.
The Griswold's family legacy continues to the present day, with Worthington's Griswold Center bearing its name. A February 21, 1994 "ThisWeek in Worthington" news article explains the Griswold Senior Center, as it was called when dedicated in '94, incorporates exterior architectural elements of the old Griswold Inn that once stood across High Street from the location. Worthington also honored descendants of Ezra Griswold at the city's 2002 Founder's Day opening ceremony, which kicked off Worthington's bicentennial celebration. And a search of the Worthington Memory website for the name "Griswold" returns nearly 400 results, only some of which are captured in the scrapbook and newspaper links collected below. Be sure to browse the site further to read about the many Griswold family members whose stories are a part of Worthington history.
Explore
Newspapers
Worthington News

Thursday, November 29, 1928
Worthington News

Thursday, February 4, 1932
Worthington News

Thursday, June 9, 1938
Worthington News

Thursday, June 16, 1938
Worthington News

Thursday, June 25, 1942
Worthington News

Thursday, July 25, 1957
Worthington News

Thursday, February 13, 1958
Worthington News

Thursday, August 14, 1958
Worthington News

Thursday, October 23, 1958
Worthington News

Thursday, April 27, 1961
Worthington News

Thursday, January 16, 1964
Worthington News

Thursday, June 20, 1968
Worthington News

Wednesday, June 21, 1989
Worthington News This Week

Monday, October 19, 1992
This Week in Worthington

Monday, March 29, 1993
This Week in Worthington

Monday, February 21, 1994