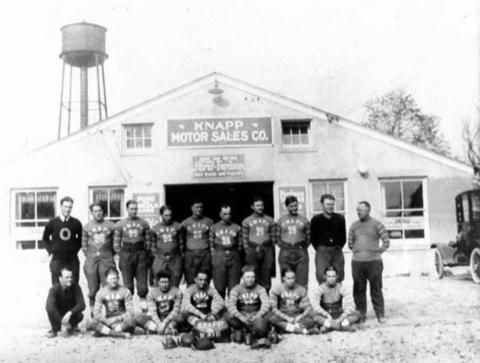 This spring, take a stroll through Worthington's past on the Picture Worthington: History Walk. This outdoor gallery features 15 posters of enlarged photographs displayed on buildings along High Street's historic district. Read on for more about the tour and the people and places it highlights.
Did you know the Griswold Center was once the site of the Sharon Township Fire Department, or that Jet's Pizza was the Home Market, Worthington's beloved local grocery store?
The Picture Worthington: History Walk offers a glimpse of the Worthington of decades and centuries ago. Each of the tour's 15 stops lets you compare present-day buildings and businesses to images showing what was there before. Many of the photographs feature people proudly posed in front of buildings, sporting the latest fashions of their day.
During the tour, you'll be able to compare street views of High Street from before the Civil War to 1976. You'll learn about Bev Scott, born an enslaved person in Virginia, who, in the late 1800s/early 1900s, worked as a barber in Worthington and Columbus. You'll spy Edith Snouffer staffing the Home Market deli counter in 1943. You'll see what bicycles looked like in the 1890s and the car model high schoolers picked to drive in the 1980 Memorial Day parade.
Most of the images on the tour came from Worthington Memory, and are featured in the gallery below. Click on each photo to learn more about the people and places pictured.
The tour, a collaboration of Worthington Libraries, the Worthington Historical Society and the Worthington Partnership, will be displayed through the end of June. Download the free Pocketsights app, via a scannable QR code on each poster, to visit all 15 stops on the walking tour.
A map of the tour locations and a printable kids' activity sheet is available here, as well as at Old Worthington Library.
Enjoy the spring weather as you peer into Worthington's past!