Tuesday,
September 3, 2019
9:30am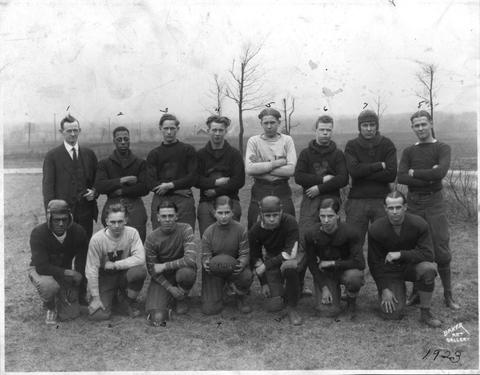 School bells are ringing once more and with another school year underway, let's focus on those elements of school that stoke our nostalgia and tug on our reminiscent heartstrings. Worthington has a long history of fun and learning, so step inside our September exhibit and enjoy!
We begin with the trip to school, vivid in many of our memories as an opportunity to catch up with friends before long hours in the classroom. Though some tell tales of arduous journeys to and from class going uphill both ways, battling inclement weather, our Worthington memories provide a more idyllic look at school buses and crossing guards. One 1937 photograph depicts a school bus carrying students down West Wilson Bridge Road. Boxier and considerably smaller than the school buses we see today, this single 1929 Ford bus transported all 12 grades to and from class. As Worthington grew, so did its bus fleet. A 1960 item shows nine bus drivers receiving training in front of a garage housing several large buses. Those who did not ride the bus in Worthington may have been aided in their voyage to school by a crossing guard. Visibility is imperative for crossing guards of any era, and the crossing guard seen in our 1965 photo is hard to miss in her official uniform and white gloves. No matter the method, Worthington students could go back to school in style.
Both inside and outside the classroom, Worthington Schools provided myriad learning opportunities. In the 1930s, shop class offered students, such as Ben Pyle, practical experience working with cars. Home economics reinforced other life skills, as shown in a 1940 photograph depicting two high school girls simulating a customer service interaction. In later decades, third graders have had opportunities to learn about Worthington history, participating in events like Pioneer Days that give students a taste of a Worthington settler's life while visiting the Orange Johnson House.
Sports, music and extracurriculars in Worthington have provided just as much variety as the classroom. Worthington has developed baseball, football and basketball student-athletes for many years, our first baseball team photo having been taken between 1902 and 1905. Music, too, has occupied students' time outside the classroom as band, orchestra and choir provided Worthington's young musicians with opportunities to learn and express themselves. In addition to sporting and musical offerings, Worthington also ran a club for social development, which broadened in scope as students' interests changed. Originally called the Personality Club, the Activity Club was founded in 1937 to teach girls formal etiquette, but the club grew throughout the decades, welcoming male students and evolving to teach different facets of personal development from dance (offered from the 1940s to '70s) to leadership skills and college preparedness. With unlimited possibilities, Worthington students going back to school could expect a wealth of educational experiences both in the classroom and out.
When asking a student about their favorite part of the school day, it is not uncommon to hear resounding support for lunch and recess. Worthington students got a lunchroom in 1930 when a home economics teacher, Alpha Wilhelm, set up a space in the school auditorium "For the conveniences of students who bring their lunch or for those whose homes are too far away to be reached during the noon hour." Since then the lunchroom has been a respite from the scholarly grind, and occasionally welcomed special guests. In 1975, school lunch made headlines in Worthington as parents joined their children in the lunchroom. More recently, Worthington police officers have joined students for Lunch with an Officer events at local elementary schools.
For recess, students could unwind on playgrounds, which have seen some changes over the years. Playgrounds in 1940, for example, offered traditional play equipment such as teeter-totters, merry-go-rounds and swing sets that may raise the eyebrows of today's safety-minded playground planners. Worthington students of more recent years will recognize the state maps painted on elementary schools' blacktopped playgrounds. In 1997, Dublin-Worthington Rotary Club members completed scale maps of all 50 states using a 30' x 50' chalk grid, providing students with a tool for geography education as well as entertainment.
Then, of course, teachers: the glue of the back-to-school experience! Worthington Schools have boasted a number of praiseworthy teachers, each working to positively impact students' lives. Charles Rousculp, a Worthington High School English teacher from 1949 to 1985, received numerous professional accolades, including Ohio's first Teacher of the Year award, in 1968. Rousculp reflected on his teaching career, hoping he would be remembered as having "dealt with students as human beings, and worked them hard." In more recent years, exemplary Worthington teachers receive the Gary Smith Compassionate Teaching Award, which honors the memory of Gary Smith, who served the district as a coach and teacher for 31 years. The annual award selects teachers who reflect Smith's values of "caring about kids, and … paying attention to them as unique, important people." With such awesome teachers in Worthington, kids going back to school can look forward to a year of personal and educational growth.
If classrooms or teachers make you put your hands in the air, if lunch is your jam or if you get your kicks from recess or after-school sports, this back-to-school season has something for you!
Newspapers
Worthington News

Thursday, September 5, 1929
Worthington News

Thursday, September 13, 1934
Worthington News

Thursday, September 7, 1978
Worthington News

Thursday, August 27, 1981
Worthington Suburbia News (SNP)

Wednesday, August 18, 1993
Worthington News (SNP)

Friday, May 12, 2000
This Week Worthington News

Thursday, August 22, 2013
This Week Worthington News

Thursday, August 20, 2015